Pre-Wedding Series: Allure Signature Eyebrow Embroidery
Before and After Allure Signature Eyebrow Embroidery
For the second part to my sister, Shirleyn's pre-wedding photoshoot, Ladies Club managed to get her an appointment with Allure Beauty.

If you've watched the video, you can see that her original brows was sloping / \ (八字眉) which was said to be unlucky according to Chinese face reading. So here's what Joey did to change the shape of her brows! You can see that her then messy and sparse brows look fuller and neater.
Pigments are handpicked carefully to fit the natural colour of the customer's brows and hair. After numbing cream is applied, a new sterilised blade is used to deposit dark brown pigment into the epidermis with the very fine blade, creating hair-like strokes which look natural.
Golden Ratio

Shirleyn's has a flat nose ridge and the new brows helped to create a lifting effect as well as a more alert look.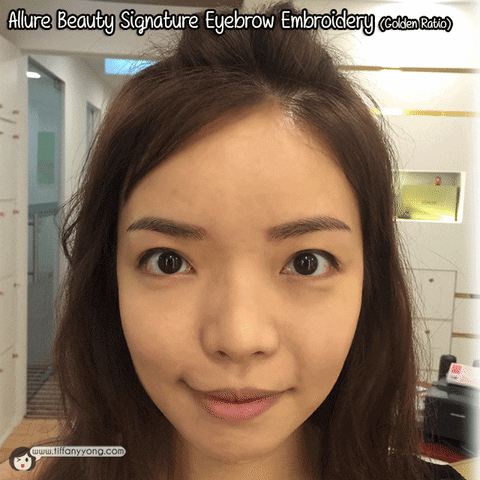 For mine, I have wide-set eyes and with Joey made used of Golden ratio to tweak the shape of my brows such that it visually re-space my eyes and helped my face look more proportionate.
Allure Signature Eyebrow Embroidery

As you can see, the Allure Signature Eyebrow Embroidery incorporates Angela's artistry with years of established professional training and now performed by professional qualified therapists at Allure Beauty, combining with nano-technology; the result is a perfect eyebrow arch with natural-looking strokes that give you the instant groomed and enhanced look. The strokes looked like a groomed eyebrow strand instead of a patch of brown like eyebrow tattoo.
After care and Touch-up
After care is very important if you want your embroidery to last. Typically, for a normal person like me, the colour will fade off after one to two months. However, for Shirleyn, her skin doesn't take in the pigment, it faded off really after 2 weeks. The follow-up appointment for touch-up helped to make the pigment stay longer. 🙂
Exclusive Discount for LadiesClub readers
Getting your eyebrow embroidered not only balances your facial features, it helps boost confidence and make your everyday makeup easier too (Because you don't have to spend hours trying to balance your brows!
Check out the first part of Shirleyn's pre-wedding hair makeover from Shunji Matsuo here!
Allure Beauty Saloon

Contact: 6898 2242 (West Mall Outlet) | 6509 8859 (City Square Mall Outlet) | 6481 3608 (Tampines One Outlet) | 6270 8845 (Boon Tiong Road Outlet) | 6250 3382 (Tiong Bahru Plaza Outlet) | 6455 3536 (Ang Mo Kio Outlet)!
Email: [email protected]
Website: www.allurebeauty.com.sg
Check out their Facebook Page for latest promotion!
Read about my eyebrow embroidery service with Allure Beauty here!